Northern Tanzania Wildlife Safari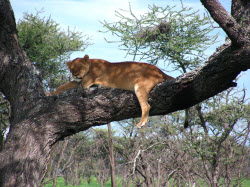 Tanzania has many wildlife reserves and sanctuaries dotted across the whole country. Among these, the northern region of the country offers the most beautiful and bountiful ones. Some of the famous national parks which offer amazing wildlife safari are Serengeti National Park, Ngorongoro Conservation Area and Tarangire National Park. Given below are some main attractions each of these famous safari destinations has to offer. More..

Is It Safe To Travel To Tanzania
Over the last few years the rich wildlife of Tanzania has gained immense popularity catapulting the region to a status of an international tourist destination. The country is home to many wildlife reserves which offer spectacular views of teeming herds of exotic animals and birds. However, if you are planning your trip to Tanzania, you need to take some travel precautions as listed below:
Familiarize with the political scenario:Before planning your trip to the region, it is recommended that you gather information on the current political situation of the region. There may be some threats of terrorism as well as civil unrest in the region from time to time. You can get this information from the state department website.
Get yourself vaccinated:The second issue you need to take care of prior to your tour is related to some essential disease preventing vaccinations. These vaccinations are meant to prevent some diseases commonplace in the region like malaria, yellow fever, hepatitis A and B, Polio, MMR, rabies, tetanus and diphtheria. These vaccinations should be ideally taken about 4-6 weeks in advance and your doctor will be able to give you advice on this.
Take care against AIDS:Tanzania has very high percentage of population suffering from AIDS. Almost 6.2% of the adult population of the country suffers from the disease as compared to 0.5- 1.0% in USA. It is therefore vital that you exercise all normal precautions to prevent exposure to AIDS during your travel to Tanzania.
Avoid traveling by night:The economy of Tanzania is highly dependent on tourism and hence visitors to the country are generally safe. However, there have been sporadic instances of mugging. It is therefore advised to avoid traveling alone at night.
Have packaged drinking water:You also need to take care of your food and water consumption in Tanzania. The risk of diarrhea is high in the region owing to the polluted water and unhygienic conditions. Therefore, ensure that you take packaged drinking water as well as food from established hotels and restaurants.
Tanzania is a country where nature lovers will have the time of their lives. Taking these basic precautions will ensure that everyone enjoys a safe travel to this country.
More Articles :